Style Resolutions for the New Year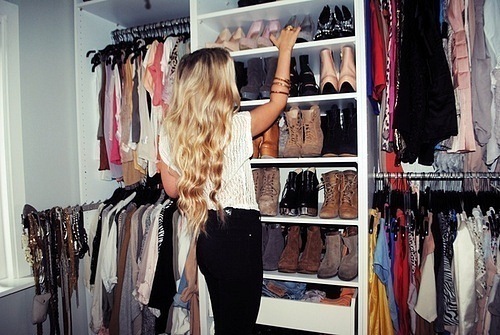 Take control of the new year by taking control of your style. Start off your new year with your own style resolution, and prepare to make this year the beginning of making you even more fabulous than ever. We've got plans for four style resolutions to help you along the way, and we'll be bringing you one each day in the easiest way possible. And besides, if 2012 is the last year, why not go out incredibly stylish?
Organize and Stylize Your Closet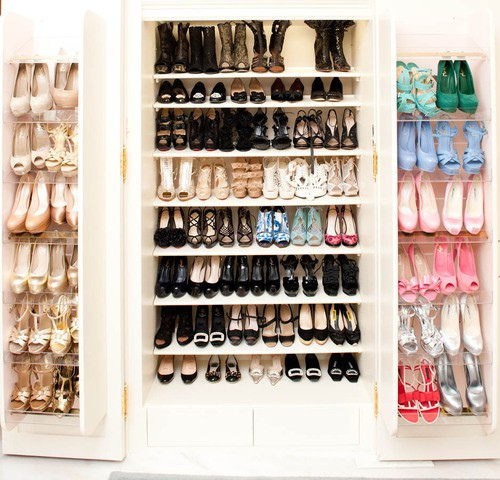 Take on the new year with a new closet. You don't need a new wardrobe to have this, all you need are a few supplies and upgrades to your current closet. If you're ready for a closet clean-out, click here to get inspiration and tips! If you're not ready for an overhaul just yet, a few tweaks can really open up your closet and make your mornings about a million times easier.
First of all, make sure you own enough hangers, and use ones that won't break. When you switch from plastic, brittle hangers to either wooden or velvet, your whole closet will just feel better. This is a great little detail that will keep your clothes in better condition (hello, no hanger snags in the fabric) and will motivate you towards your dream closet. After picking up the piles of clothing off your closet floor, put them in order on the racks by organizing them by category. Keeping all of your blouses together, dresses together, skirts/pants together (etc.) will ensure that you won't find a rogue Nanette Lepore halter hidden behind your winter coat once summer's over. If it's helpful for you to organize your clothing by color, go for it, but if you think that you'll glaze over a section of black tops assuming they're all the same, mixing it up might be better for you.
Don't skimp on organizing your shoes and accessories either. Got scarves sitting in an overflowing basket? Are your belts looped around a hanger and falling off? Are your shoes mismatched and living on your floor? Grab some stackable boxes, a sharpie and some blank labels and get to organizing. Throw your scarves in one box, your belts in another, even your costume jewelry in another. Label the sides so you don't go fishing through them in a morning rage, and you're on your way to closet perfection! (How easy is that?) Take those shoes decorating your floor and line them up on a shelf. You'll have all of your shoe options in front of you, giving you the best chance to create an outfit people will be talking about for weeks. If you're short on space, picking up a one-tier shelf that goes on the floor will at least maximize the space you do have. Organize by color, occasion or heel height, whatever will help your style process the most. Grab your boots that are slouched over and put a rolled magazine in each boot to keep it standing tall.
The final details will add icing on top of your style cake, giving your closet the TLC that it needs. Line your shelves with scented shelf paper, or add sachets to your drawers and shelves to give your closet an oasis vibe (anything to make getting dressed less stressful). You can also throw some cedar chips into your closet, they're inexpensive and they'll keep your clothes away from pesky moths. Go the extra style step and hang an inspiration board on your closet door or wall (find out how to make one here) for an instant style pick-me-up.
Have a closet organizing tip that you'd like to share? Tweet us (@STAconsignment) or post on our Facebook page (facebook.com/staconsignment) and let us know!
~Ashley, FashioniSTA
Comments are closed.