Shopping My Way Through Boston, STA-Style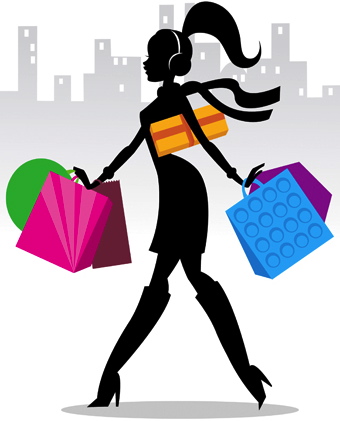 Confession. My name is Meredith. And I'm a shopaholic. An STA-aholic, to be exact. While I tell people I live in Boston to be closer to work and the Red Sox, the real reason why I live in Boston is to be close to some of STA's best and beloved locations. Truth. Each location is like a different treasure chest. A fabulous fashion-filled treasure chest. Who needs pirate's booty and gold coins when you have some of the amazing designer items I've snatched up.
Where: STA Charles Street
On a particularly gloomy day (rainy, gray skies, and my pad thai from an unnamed restaurant was dry and inedible), a ray of light shot down via STA. Out of the corner of my eye, I saw the beloved brown leather case. Black logo. Center silver snap-button. My eyes darted over and there I found them. Classic black Ray Ban Wayfarers with a gradient lens. A staple for Audrey Hepburn, Tom Cruise, Mary-Kate Olsen – and me. A steal for only $59! My only wish? That there were more pairs – I would have bought them all!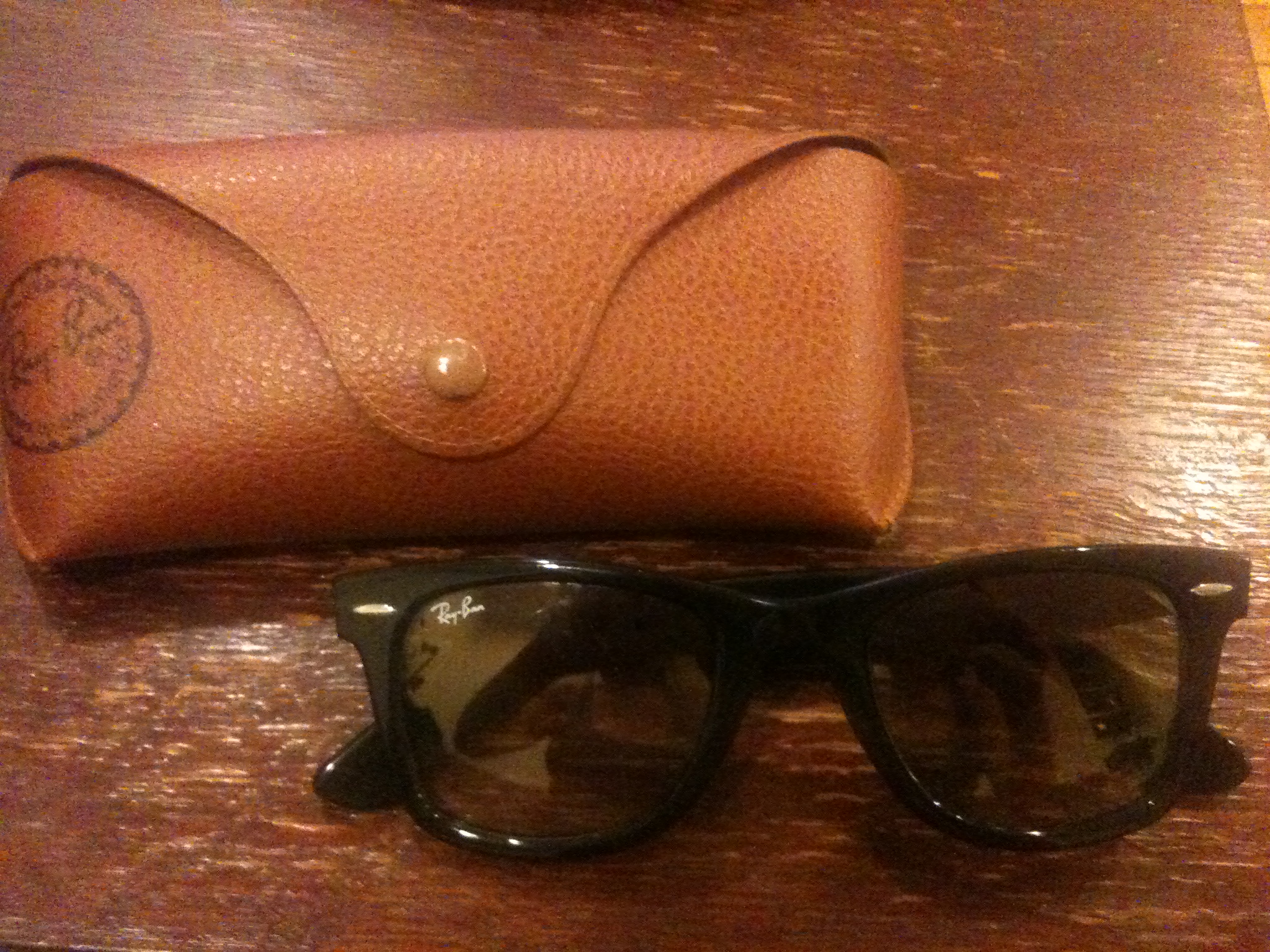 Where: STA Burlington
My roots lay on the North Shore of Massachusetts, so it's natural that I venture to STA Burlington from time to time.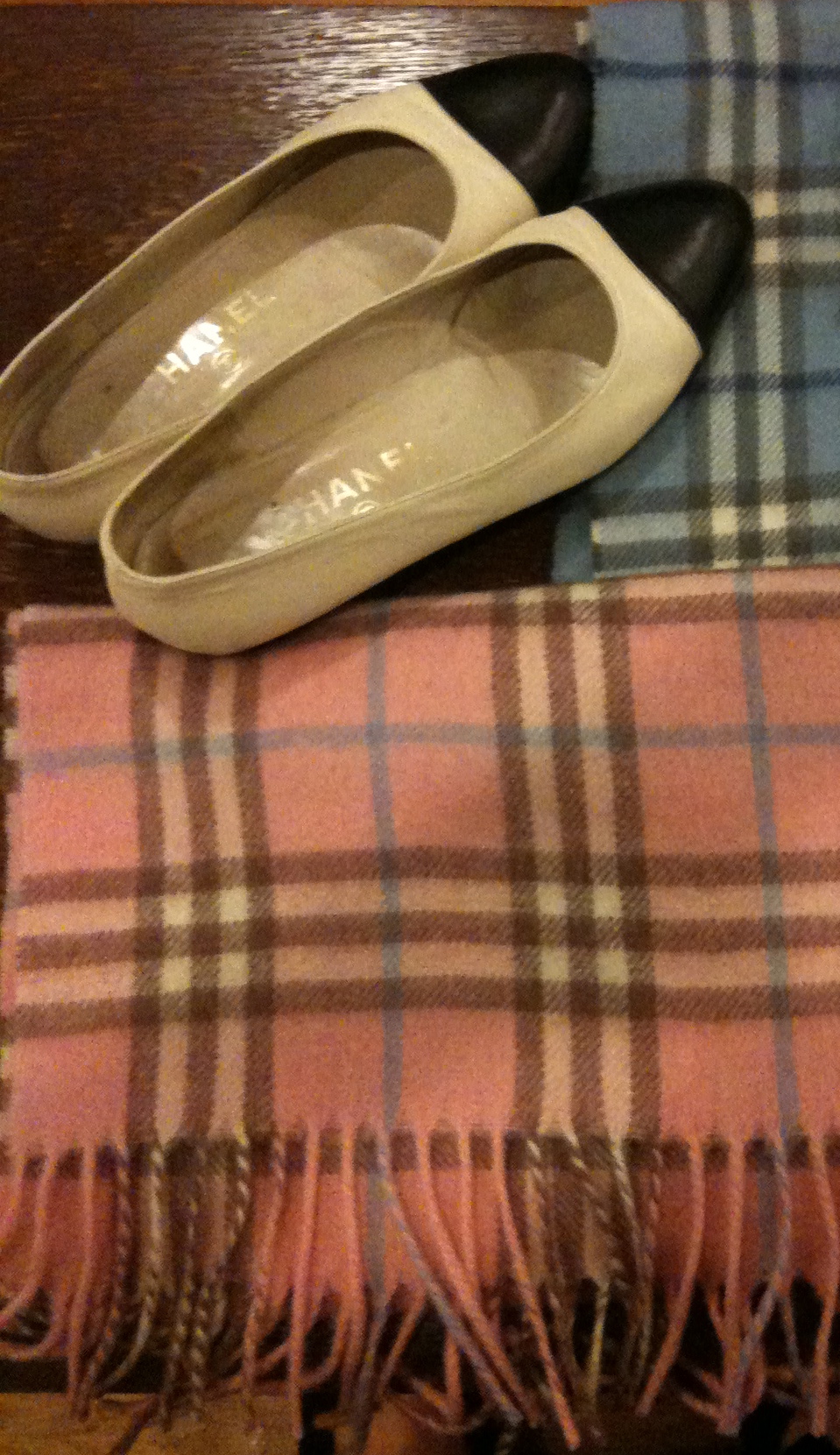 Wedged between stores filled with the same trends, the same shoes and the same tired accessories, STA Burlington is a shining star in the middle of a suburban mall.By far the best part of STA Burlington? The oh-so Jackie O cream Chanel flats (right) with contrasting black cap toe that I found for under $100. These shoes top the must-have-gotta-have list for every sophisticate. Paired with a pair of skinny black pants, a black and white sailor striped top, and a baguette – any fashioniSTA can be perfectly prim and proper.
Where: STA Charles Street
My old copy of the original Preppy Handbook lists Burberry as one of the must-have, never fail brands for true preps. My mom (a self-proclaimed prep herself) taught me the same. "Burberry plaid was in style 20 years ago, and it will still be in style 20 years from now." Her words rang in my ears as I spotted a pink Burberry plaid scarf (shown at right with blue companion scarf found later) at STA Beacon Hill for $79. The classic plaid print in 100% cashmere – and long enough to wrap twice around my neck! While I distain the imminent frigid New England winter, at least I know I can keep warm in style.
Where: STA 219 Newbury
Every fashioniSTA knows that shoe selection is no joke. Choos, Blahnik, YSL – so many choices, and only two feet! While I adore the Jimmy Choo's edgy style, the timeless quality of Manolo Blahnik's and the to-die-for platform pump in a pair of YSL Tributes, my heart bleeds red for Christian Louboutin.
Lucky for me (and my feet), with a tip from my best friend (fashioniSTA's own Ashley), I found the most perfect pair of black suede Christian Louboutin platform pumps at STA. My ever-small foot (no joke, I'm a size 5.5) cozied up to the leather lining perfectly. Bells rang. Birds chirped. Forget Prince Charming, I found true love in my new shoes.
My love for my STA-found Louboutins grows everyday. A true fashioniSTA knows that there's no wrong time for a killer pair of heels. I strut in them. I do laundry in them. I watch Gossip Girl in them (I swear I saw the same pair on Serena van der Woodsen!). And it all feels a little sweeter knowing that I found them at such an unbelievable price (under $250!) at such a fabulous store.
~Meredith, fashioniSTA/Super Shopper, Second Time Around
Comments are closed.