Posts tagged
monochromatic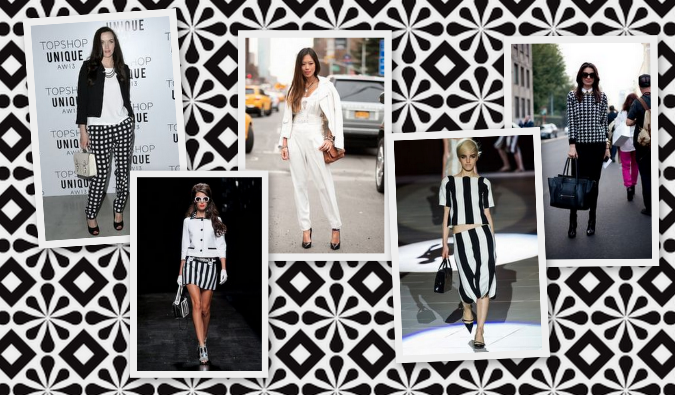 Fashion is all about self-expression, so when black and white monochrome looks became popular, I was a bit hesitant to participate. How can you fully express your fashion sense without the use of color? However, after seeing this trend on nearly every runway, I decided it was worth a shot—and now I'm obsessed!
One of the great things about this trend is that most of us have a bunch of separate black and white pieces in our closets. Because you're only dressing in black and white, it is actually a fairly easy trend to construct from any wardrobe, as long as you know how. For a subtler look for the office or during the day, play around with contrasting separates in a more unconventional way. Instead of donning the traditional black pants/white top look, try a pair of white pants and pair them with a black cashmere sweater or silk top. Since the look is simplistic in color, you can get away with incorporating more organic detail, whether it's adding a belt or layering two embellished pieces in the same hue.
If you're a little more daring, try wearing an ensemble of all white—the color is perfect for transitioning into spring and actually helps to create a slimming silhouette. And with winter white popping up everywhere, you no longer have to wait until Memorial Day to break it out.
If you want to rock monochrome in the evening, play around with black and white patterns; throw on a polka dotted blazer or a pair of striped pants and accessorize with a black and white color blocked bag. If you're super daring, experiment with—gasp!—mixing different black and white patterns in one outfit. Mixing black and white prints is an easy way to try out the contrasting prints trend, giving you two trends in one!
Monochromatic black and white is absolutely everywhere this season, from the runways to the magazines. The trend is fun, flattering and easy, so don't be afraid to give it a shot! Stay tuned as we show you how to work with other hues for a monochromatic look!
~Alyssa, fashioniSTA
(Image credits for collage: Style.com, Refinery29.com, Harpersbazaar.com)
Believe it or not, the fall fashions have started to fill the shelves and racks of your favorite stores everywhere. Since our blissfully sunny and hot summer has lulled us into a summer fashion stupor, the FashioniSTA blog is here to wake you up and get you ready for the coming season. Because it's coming….whether you like it or not!
The Fabulous Fifties
The glamour of the fifties is back. Select high-waisted skirts – both form-fitting and full, corseted tops, sweet cardigans, narrow belts for the waist and smart lady-like jackets if this trend is right for you.
Real and Faux Fur
Fur – both real and faux – was everywhere on the Fall 2010 runways and in as many forms, shapes and colors as designers could dream up. Get a fur jacket if you love the look. If you're not sure, snag an item with a fur embellishment or trim and take it for a spin.
Head to Toe Color
Instead of head-to-toe black, brown or grey, dress yourself in head-to-toe color. Reds, greens and purples were favorites on the Fall 2010 runways. But, keep it interesting by varying the hue and intensity of the color from piece to piece.
Minimalist Menswear
Whether it is a suit for the office or an outerwear piece for everyday, minimalist menswear is the way to go. This may be the trend under whose umbrella you buy your investment piece for the season
Gold Rush
Up the fashion ante by adding gold to your traditionally all-neutral fall ensembles. And not just any gold.
Search out the lames, the multi-dimensional metallics and the rich and royal gold and red brocades.
"Long"term Relationship
Long skirts – either shin-length or all the way to the ankle – were shown on numerous Fall 2010 runways. Pair them with kitten heels or flat boots for easy city walking.
Luxurious Layers
Make like a nomad and pile on the layers. Use wrap skirts, chunky sweaters, tweed jackets and oversized coats – the more, the better! Add additional interest by incorporating numerous types of fabrics, textiles and embellishments in one outfit.
I truly hate when summer leaves us. But, the fall fashions certainly manage to cheer me right back up. Here's hoping that they cheer you up too!
Shop on readers!
~Marisa, Director of Styling, Second Time Around
'