A FashioniSTA's Reference Guide to Green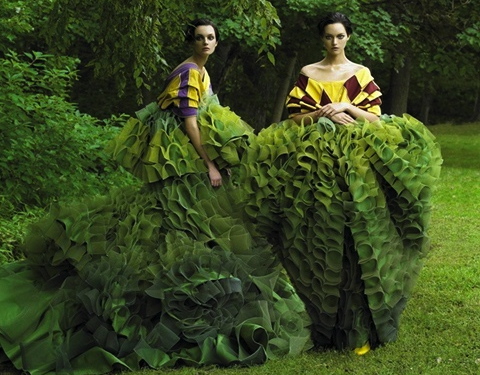 We all know that we should try to be a little more eco-friendly, but sometimes we don't know where to start, especially when it comes to our closets. Checking out eco-fashion buzzwords, it's not always clear what they mean. Finding yourself stumped? Well here's a handy little guide to make eco-shopping a little easier.
Organic: This means that no pesticides, chemicals or genetically modified seeds were used in growing the materials used to make the clothing. However, some dyes used to color the clothing are chemical, so make sure you do some research on the company if this is a deal-breaker for you.
Vegan: No animal products were used to create the item. This includes wool, silk, down, leather, suede and fur. Going vegan can reduce your carbon footprint because the processes to make non-vegan materials can involve harmful chemicals and depletion of natural resources.
Sustainable: Refers to items that are eco-friendly, generally meaning organic. Any fashion that reduces your carbon footprint can be labeled sustainable.
Bamboo: A type of grass that grows quickly and in a variety of climates. The reason it's lauded as being green is because it can be grown without the use of pesticides and regrows quickly after it is cut. However, sometimes chemicals are used to convert bamboo into clothing.
Consignment/Swapping: This is the equivalent to recycling your clothing. You're reducing your carbon footprint by not increasing the demand for new clothes (where the process uses chemicals as well as natural resources). However, not all clothing that is consigned or swapped is organic or vegan.
Do you have a buzzword that you're confused about? Let us know on Facebook!
Comments are closed.