Posts tagged
fashioniSTA
If you're anything like us, you gravitate towards anything fashion-related, soaking up all the information you can find. Well, Alicia Kennedy has made it easier for us to do that with her new book, Fashion Designed, Referenced written in collaboration with Emily Banis Stoehrer and Jay Calderin. Armed with dazzling photos and a handy historical timeline, this is a one-stop resource on the path to becoming a fashion know-it-all.  In this exclusive interview with STA, Alicia Kennedy explains the contents of this fashion bible with a target audience beyond just fashion students.
STA: This book encompasses a wide range of fashion topics, from the history to how certain elements are constructed. Was one of your objectives to make it a teaching tool for fashion students, especially since all three of you are involved in fashion education?
Fashion Design, Referenced is, in essence, a reference book that aims through lush images and lively text to illuminate as many aspects as possible of this enterprise called fashion design. We absolutely see our work as an alternative to the often dry and poorly illustrated textbooks marketed to schools. It's our hope that students, whether in design, communications, or merchandising programs, will discover something in our depiction of the fashion cycle and in our parade of designers to excite their imaginations.
It's our hope that students…will discover something in our depiction of the fashion cycle and in our parade of designers to excite their imaginations
STA: What is your favorite part of the book? (Not to influence you, but mine is the historical timeline with the illustrations at the beginning!)
I really love the first two subsections because they posed such a challenge. These delineate the components of haute couture, on the one hand, and the trajectory of ready-to-wear, on the other. But I had the most fun putting together the timeline, starting with folks strutting the streets of the Renaissance city in all their finery and ending with the wild fluctuations of style in the 1990s, from Lagerfeld's high-low pairings at Chanel to McQueen's cheeky bumsters. Of course, it's the charming drawings that enliven this section, especially those by Lynn Blake.
STA: This book is chock-full of facts, histories, profiles, and behind-the-scenes looks. What's the most interesting thing you learned while doing research for this book?
One piece of history whose deep ramifications became clearer was the Grand Divertissement à Versailles. In a fashion showdown in 1973 the simple elegance and verve of five ready-to-wear designers from New York KO'd the elaborate efforts of five top Parisian couturiers. Just as important were the racial barriers tumbled when eight African American models walked the Americans' runway. I also discovered some truly extraordinary directions that fashion is taking, such as Suzanne Lee's BioCouture project, which attempts to "grow" clothing from bacteria. But what I found interesting above all else was the enormously different trajectories that designers have taken to get to where they are now.
FD,R aims to reveal that there are as many routes to a fashion practice as there are fashioned objects.
STA: We heard that you are a big STA fan! What is your favorite piece (or pieces) that you've found in one of our stores?
I am a fan. While I've found great pieces at STA stores by Yohji Yamamoto, Rick Owens, and Miuccia Prada, I have two favorite garments: a silk dropped-waist dress by Phoebe Philo for Céline, very severe and modern, and a wool jacket by Junya Watanabe for Comme des Garçons, a play on the trench that I wear both with black jeans and with cocktail dresses.
STA: If you could wear one thing for a week and not be judged by anyone, what would it be?
I tend to dress in a kind of urban uniform, so it already seems as if I'm wearing the same thing repeatedly. The whole issue of judgment fascinates me, though.
When I do wear something that stands out… I love how it invites complete strangers to come up and start a conversation.
You can grab a copy of this fashion guide on Amazon, it's the perfect accessory to any closet!
Spikes and studs used to express somewhat of an emo look now they are the hottest design around! People are dying to wear spikes and studs on anything from head to toe ranging from earrings to headbands to jackets to bags. Basically, you can add studs to any item of your wardrobe and it will be deemed fashionable. Depending on how style daring you are there many different routes you can take to pull off the spikes or studs trend.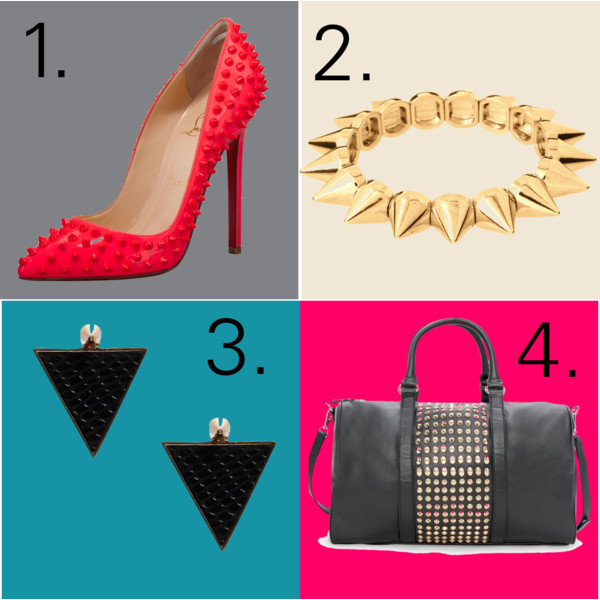 If you are that typical trend-setter…
You're always wanting to be the first one to show off that new style now matter how crazy it may look. And with this trend, there are many different ways you assert your style status while showing off your love for spikes and studs.
Going with an all-over spiked shoe is a great statement piece, whether you go with traditional metallic spikes or a monochromatic look as seen in picture number one above (Christian Louboutin Pigalle Spikes Fluorescent Patent Red Sole Pump, $1,195). Should you want to take it one step further and you're not afraid of a little height, try out Jeffrey Campbell's Spiked Lita Boot ($195).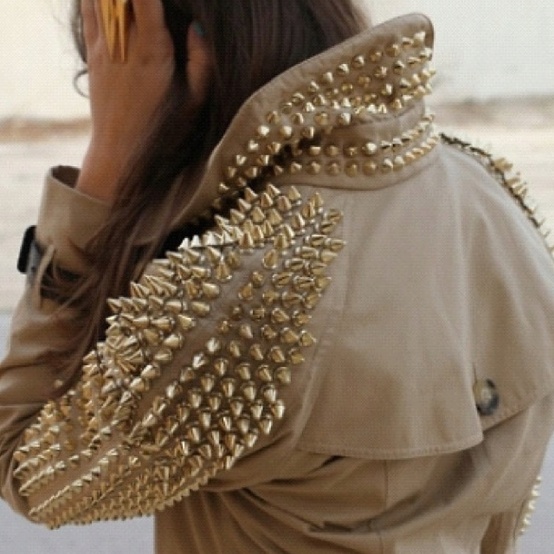 A blazer or jacket with arm/ shoulder studs could be paired beautifully with black skinny jeans, a white shirt/sweater for a stark style, or even a simple black dress and heels for evening attire.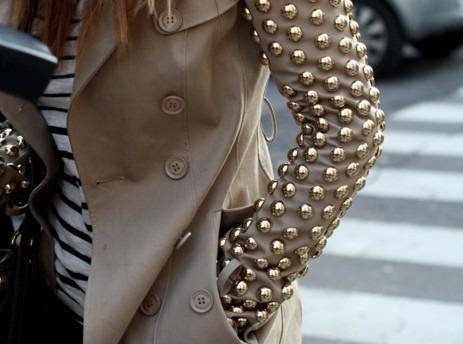 If you are more of a budding trend-lover…
You're someone who likes certain styles once they have caught on and become popular. You are more likely to carry a bag like number four above (Mango Spiked Bowling Bag, $110, Mango.com). A bag of this size and detail is multi-purposed – great for going out shopping or even a carry-on bag for traveling.
Other items that a budding trend-lover could be seen wearing are:
Studded or spiked wristlet and flats – The wristlet on the left could go with just about any outfit to add some emotion and eye-catching shine. The flats on the right would go great with black shorts or even a shirt and sweater. Add a pendant necklace and you're sure to catch some attention with just those few details.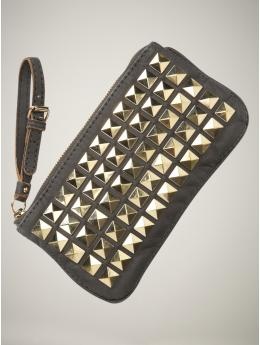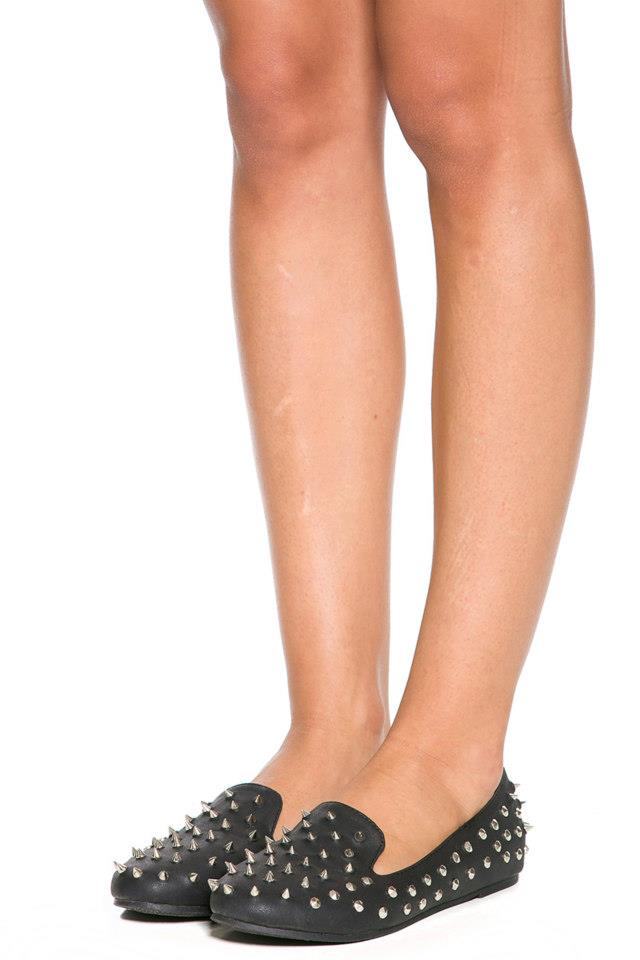 Spiked jewelry - If donning spikes on your bag or shoes is too much for you to handle but you still want to follow this obsession, the best thing to do is incorporate it into your jewelry. When wearing spiked bracelets the best thing to do is stack them as shown above to give an even fuller look. As shown in box number two in the graphic above, you can try spiked bangles (the ones above are ASOS spiked stretch bracelets $14, and the photo below is Stella & Dot's Renegade bracelet $59), or your can ode the '80s with earring like in box number three (these are Jenni Design Spiked Earrings $16).
Studded manicures – Giving your nails some stud love is also a more low-key way to try the trend (shown below), and we found one of the best studded manicure tutorials here on Lulu's Blog. Its very eye catching but make sure not to puncture someone while giving a friendly handshake!
Electronic accessories - Phone cases are a great item to show off your love for spikes and studs it looks great but is something that is not constantly being shown off. People will notice it when you whip your phone out for a quick call or text message but then you can top it back into our purse once its seen.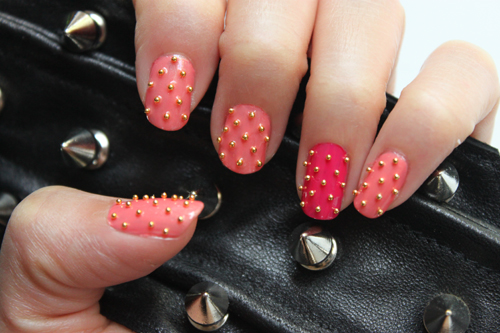 ~Jenna, fashioniSTA
When heading to the beach this summer, be sure to do it in style. Here are eight essentials for a fashioniSTA's seaside getaway!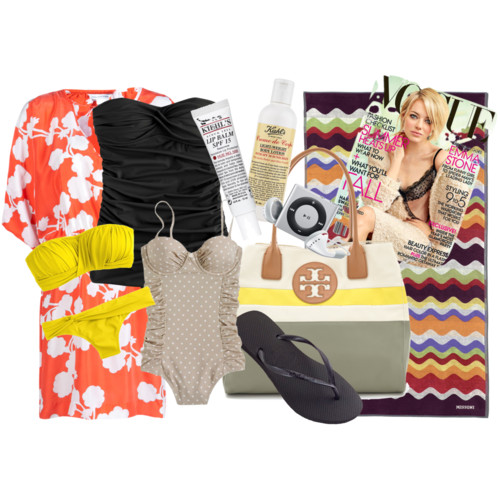 1. Fun, Flattering Swimwear
There are endless possibilities of swimwear styles each year. We recommend going for a classic, flattering suit with a bit of a twist- whether its a pop of color or fun print, like the ones above all from J.Crew.
2. Complimentary Cover-Up
Pair your swim suit with a pretty cover-up. We love this one from DVF. Not only is a Diane von Furstenberg print always in style, but this tunic can take you from the beach, to the beach bar or restaurant, to running errands around town- comfortable, effortless and chic.
3. Beach Flip-Flops
Havaianas are a summer must-have for fashioniSTAs- the most comfortable and practical rubber flip-flop. They come in a variety of colors and prints, and you can even design your own to perfectly show off your summer style and personality.
4. Tory Tote
It's no secret that we love Tory Burch at STA, so when it's time to tote all your summer goods to the beach, we favor a Tory Burch carry-all.
5. Sun Protection
Keep your skin moisturized and protected with a good SPF.
6. Beach Bedding
Nothing says summer like a colorful Missoni knit, so when you're laying on the beach, sunning in the sand, sun in style with a Missoni print beach towel.
7. Quality Reading Material
Vogue, Harper's Bazaar, WWD, Glamour, Elle, etc…oh and Fifty Shades of Grey, obviously.
8. Summer Tunes
Currently on the fashioniSTA summer playlist:
Robyn "Hang With Me"
Ellie Goulding "Lights"
Josh Turner "All Over Me"
New Kids On The Block "Summertime"
Avicii "Silhouettes"
Vanessa Carlton "White Houses"
Zac Brown Band "Toes"
What's your beach essential? Tell us on Facebook or Twitter!
~Lisa, fashioniSTA